hy_perion
Medium:
General
Subject:
Angels
Title:
angels alone, that soar above.
Notes:
This was created as a mix to coincide with the conclusion of my school art paper, which was a culmination of a years worth of study in art about angels. Trust me, this paper was long. So, I made an album to go with it! Image used as the cover art is Gallipoli, by Sidney Nolan.
Sorry, no Zip!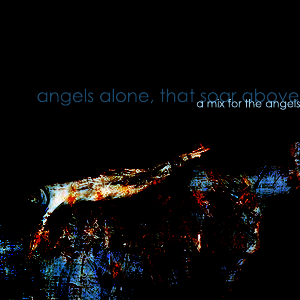 Back Cover:
Angel – Sarah McLachlan

In the arms of an angel
Fly away from here
From this dark cold hotel room
And the endlessness that you fear
You are pulled from the wreckage
Of your silent reverie
Gabriel – Lamb

I can fly
But I want his wings
I can shine even in the darkness
But I crave the light that he brings
Revel in the songs that he sings
My angel Gabriel

Weapon – Matthew Good Band
Here by my side, an angel
Here by my side, the devil
Never turn your back on me
Never turn your back on me, again
Here by my side, its heaven
If I was lost in the sky
With only one wing left to fly on.
That wing would be you.
The Promised Land – Uematsu Nobuo
[Instrumental]
Angel white of labyrinth blue
Do you see me as I see you?
Soft darkened eyes
haunted by dreamless sleep
Is it your ghost I see in the mirror?
A Nightingale Sang in Berkeley Square – Nat King Cole
That certain night,
The night we met,
There was magic abroad in the air.
There were angels dining at the Ritz,
And a nightingale sang in Berkeley Square.
One Perfect Day – Lydia Denker
One perfect day
You will see it too
My last angel
Having you there
Together, always be near
Drought – Vienna Teng

I would know love again if I had faith enough
Too far is next spring and her jubilant shout
So angels, inside
Is the only way out
[Instrumental]